In addition to paying tuition for classes, the following activities are required for each family whose child attends Triangle Cooperative Preschool.
Classroom Assist Days
Members assist the teacher in the classroom for their child's entire school day, arriving 15 minutes early to help with set-up and staying approximately 30 minutes after school to help with clean-up. Depending on enrollment, parents of three-year-olds assist approximately 3-7 days per semester, and parents of four-year-olds approximately 6-9 days per semester.
Maintenance
Members assume responsibility for their share of school maintenance. This includes a maximum of three Friday or Sunday clean-up sessions per year for each family. In addition, participation is required at one major clean-up session per year.
School Job
Each family will have a job (for example: newsletter editor, playground maintenance, animal care, librarian, or field trip coordinator) that will contribute to the operation of the school. Every effort is made to match the requirements of a job with the interests and skills of the member.
Meetings
Members are required to attend all General Meetings. There are three per year, held online.
Fundraising
Members are responsible for a share of the school's fundraising. Each family is required to raise a minimum amount during the school year by participating in fundraising events as determined by the Board and approved by the General Membership, with the option of buying out part or all of the requirement. The typical minimum amount to be raised by each family is $200.
Average Monthly Workload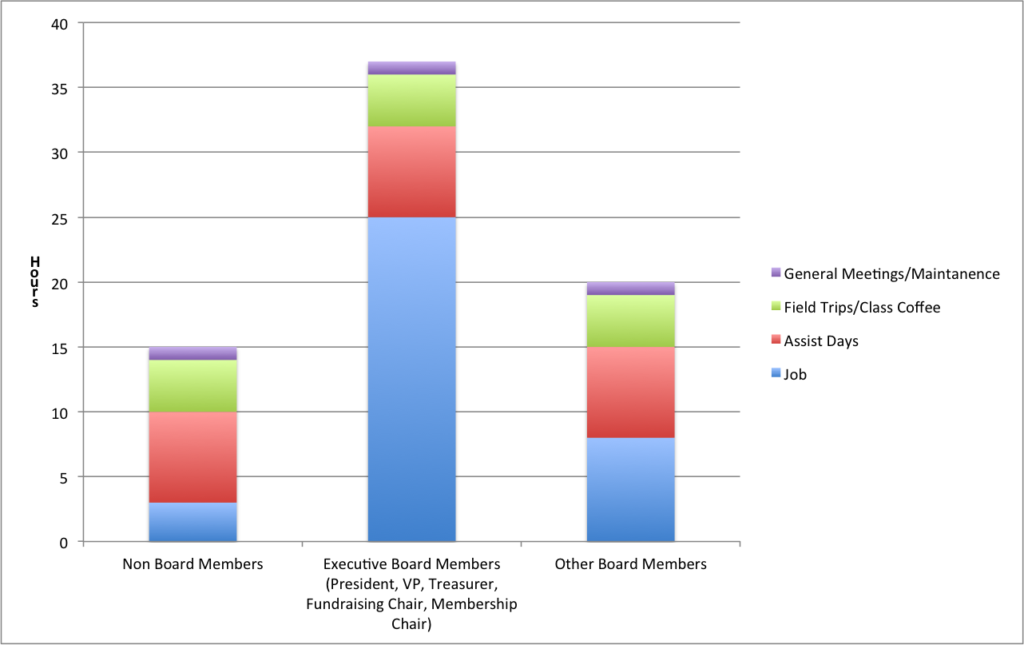 ---